By Max Strongman
Opinions Editor
Societal understanding of the internet is largely superficial, the online world still much of an enigma. We know very little of what goes on behind the scenes, behind the screen. To that end, an entire job class has been born to help regulate and monitor this hyper-complex system: content moderators. Typically hired by tech companies, these moderators sift through thousands of pictures, videos, and social media posts. With the help of programmed AI, human moderators work in accordance with a company's respective guidelines to determine whether a post violates their rules. All sorts of things are posted daily, and content moderators sort through it all: the good, the bad, and the ugly. They serve as safeguards of online decency, integrity, and humanity—or so the social media giants claim. 
Social media has become one of the primary means through which people converse. That communication also happens to be highly political. The taboos of the past long gone—helped, no doubt, by the anonymity of posting online—speaking openly about political leanings has become much of a norm. 
In recent years, civic posts and political activity online have become far more polarized. This is due in part because of ever-shifting political terrain, creating a widening gap within our political spectrum. This increasing divide of opinion is attributed to a political phenomenon known as polarization: the division of two sharply contrasting points of view or opinion. 
Story continues below advertisement
As a result, the line between content moderation and censorship has grown progressively thinner, a source of substantive debate in all corners of the political spectrum. And make no mistake, politicians have been quick to take advantage of the ambiguity. That fine line is regularly misconstrued by both sides for political opportunism, altering the two words' definitions in the process. 
While both sides are to blame for becoming progressively intolerable to one other, the split is anything but equal. Liberals and conservatives have both become stauncher supporters of their corresponding sides; but, conservatives have generally leaned further to the right than liberals to the left. Dubbed asymmetrical polarization, this contemporary anomaly is what I believe to have laid the foundation for the routine right-wing accusation: 'Stop censoring us simply because we're conservative.'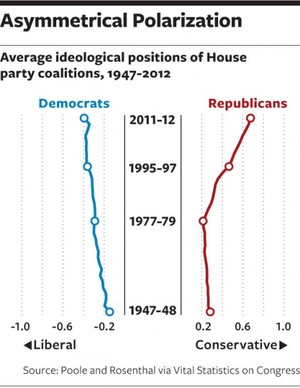 Their unfounded argument stems from the conflation of moderation and censorship. Done to meet a political end, this confoundation makes the line between the two nonexistent. In confusing the terms, they redefine them—unrightfully so. Content moderation is exceptionally nuanced, each social media company having different guidelines and regulations for posted material. In simplifying such a cryptic concept, the right seeks to benefit from misguided characterizations of content moderation on the whole. 
It is rudimentary argumentative strategy, really: redefine the terms, and you control the argument. In effect, the right has made it seem as if they disproportionately fall victim to so-called digital 'censorship.' The claim, often thrown around without substantial evidence, has become a conservative rallying cry, a dog whistle serving to write off hyper-polarized politics online.
In reality, a post can be taken down for any number of reasons, whether that be because somebody filed a copyright claim, or because moderators thought the post violated company guidelines. So to suggest that one political group has been unilaterally censored online is a mere distraction. A distraction so loud it only furthers polarization online. 
This whole debate is of the right's creation, acting only to dirty the already muddied waters surrounding content moderation. The division, the confusion, the polarization: it all plays into their hands. They throw up a smokescreen because they do not want people talking about the asymmetry of political polarization. They scream 'censorship, censorship!' to conceal their dip to the right. They do not care about supposed censorship. They do not care about content moderation. They care about the division, the confusion, the polarization—what keeps their views alive.