MAST Academy became the first high school in Florida to receive the Gold Apple Award on January 26, four years after receiving its last environmental award. 
 "The Gold Apple award is recognition … for improving on our original Green Apple threshold award for reducing environmental impacts," MAST environmental club Green Champions co-founder Michele Drucker said.
When the Florida Department of Environmental Protection (FDEP) announced that MAST met the requirements to win the Gold Apple Award, it did not come as much of a shock for MAST's main environmental club, Green Champions, the main recipients of the award.
"I was very excited, but I wasn't surprised," Drucker said. "We were a magnitude more accelerated in our program than so many other schools. They thought it was breathtaking." 
Story continues below advertisement
Ever since it became a Green Ribbon school in 2019, MAST has spent an abundant amount of resources to promote its environmental goals. One of these resources is time. Students, administration, parents, and alumni are always prepared to help when needed and never give less than their all.
"I am most proud of the student's ability to achieve great results in all six categories: communication and education, energy efficiency, water conservation, waste reduction, reuse and recycling, air quality, and transportation," Engineering teacher and member of Green Champions Mr. Allan Miller said. 
Starting off with Mahatma Gandhi's famous words, "be the change you want to see in the world", MAST principal Dr. Cadian Collman-Perez opened the Gold Apple Award ceremony with enthusiastic gratitude towards those who took time out of their day to participate in the ceremony. Among those she thanked were mayor of Key Biscayne, Joe Rasco and Vice-Mayor, Franklin Caplin, as well as Mari Tere Rojas, chairwoman of the School Board of Miami-Dade County. 
"It is indeed our honor to join all of you today to celebrate the great accomplishments of our Green Champions," Rojas said. "It is a win-win for all of us and for our future generations as well." 
Following Rojas, Miami-Dade Public Schools Superintendent, Dr. Jose L. Dotres took over the stage.
"Who are the Green Champions of the school?" Dotres said. "A special group of students that are joined by parents and community members that really believe in the importance of going Green. Today, we celebrate you."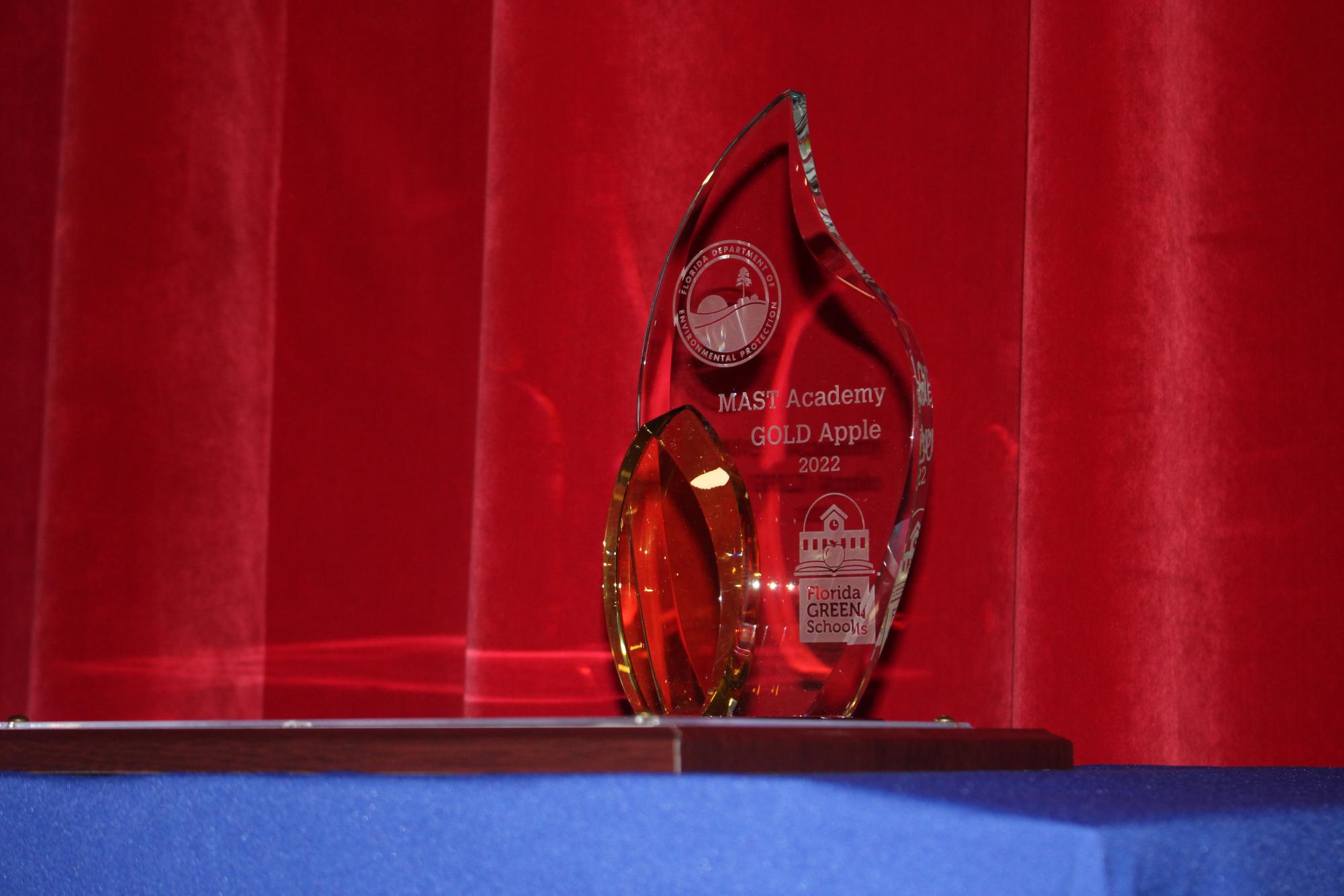 Woodson, president of Green Champions and founding director of Youth Lead Change, a foundation that teaches social entrepreneurship and leadership, made an appearance on stage as well.
"It's we who learn so much from them," Woodson said. "I know you are always told that you are the future leaders, but you are leading now."
Student members of Green Champions agree with Woodson and understand how much of an impact their hard work can make.
"These small steps that we're taking here are the start of something much bigger," senior Enzo Fouquet said. 
Presented by the FDEP Green School Program Manager, Sheena Chin-Greene, the Gold Apple Award is received by MAST Academy not only as an award, but as an incentive to do more. 
"Walking into the doors, seeing what you guys have done … thank you," Chin-Greene said. "I congratulate you all for obtaining your Gold Apple … and saying 'we're not done yet'." 
Although they are receiving the award for what they have already accomplished, the Green Champions feel that the award also represents their future and their resolution of becoming a zero-net energy and zero-waste school by 2030.